Over the last decade, we all heard about "social listening" countless times. By now, we know what it means. In terms of technology, the interpretation is quite evident but is also quite limited. Some apps monitor social media to find anything you would like. For example, what people are talking about, the way they are reacting about your product, service, or brand. When stripped of its technological underpinnings, it could be something your physician might point out as she helps you improve your communication skills. People cannot engage in meaningful dialogue. They have to pay attention and take note of what they have heard. That's where Brandmentions will help you out.
In Brandmentions, you will find all of the most popular social media platforms, alongside non-social websites. If your brand appears in the news, in a blog, or anywhere else, the platform locates it and automatically puts it into the framework, alerting you to take immediate action (if necessary). Brandmentions allow you to save, organize, and document your brand loyalty. Thereby making them more useful pieces of information.
Brandmentions Pricing
There are different service tiers available for Brandmentions. Different tiers come with more features. However, there is a price difference as well. Surprisingly, Brandmentions' top-tier plans are among the most affordable of their kind. Even medium and small size businesses can afford it. A free trial option is available. However, to use it, a credit card is needed. You are not charged any amount for the 14-day free trial period until the trial period is over.
Growing Business, $99/month: Two users can set up three projects, fifteen keywords, a hundred thousand instant mentions, and ten thousand historical mentions that date back to six months ago. Website traffic tracking, sentiment summarization, filters & actionable insights, personalized report, recorded data export, and customer support are available.
Company, $299/month: Ten users, ten projects, fifty keywords, five hundred thousand instant mentions, and fifty thousand historical mentions up to one-year-old. Additionally, it comprises features of the Growing Business Plan. It also includes personalized mention references, white-label reviews, and call center support.
Enterprise/agency, $499/month: With the enterprise package, twenty users can set up unlimited projects and track up to one hundred and fifty keywords for one hundred and fifty thousand historical mentions. There are three years of recorded data. You are notified via email in real-time.
If you are looking for a good alternative for Brandmentions, you can consider our Backlink.watch packages. The pricing below is attractive compared to Brandmentions. Without further ado, it's a viable option.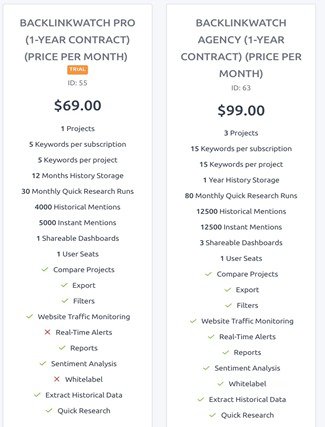 Brandmentions Walkthrough
Sign Up and Get Started
The setup is relatively simple after the getting started phase is complete. If you've used your brand identity anywhere online, your brand identity appears in the search results. This will allow you to spot any new mentions of your brand.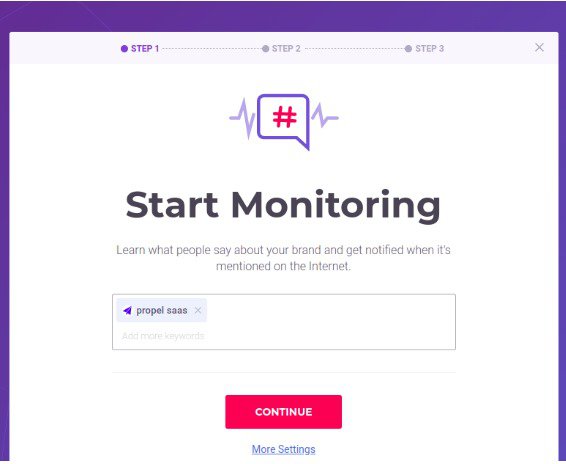 For starters, choose the name of the brand and sync the website with the relevant social channels. After linking the necessary social media platforms, the next step is to decide whether you want to keep track of mentions globally or from a particular region or dialect. For different language sites and brands, this functionality is beneficial.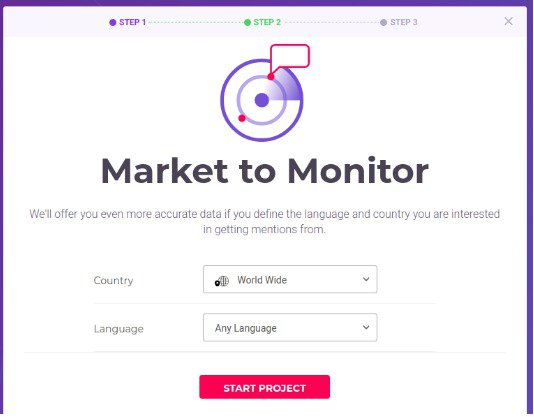 Small scale business owners can take advantage of this feature and perform market analysis region-wise very quickly.
Keywords
A project in Brandmentions is built with a specific goal in mind. "Monitor" and "measure" your projects. You will have to specify all of your keywords. Most likely this will be your organization name or social hold. When you use a strategy that fits various tasks, you can also keep an eye on your competitors' search terms.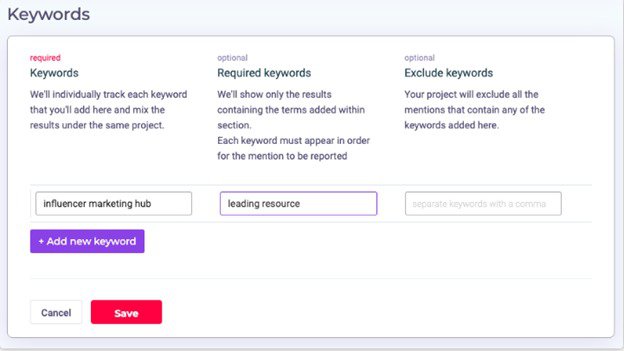 In the image above, Brandmentions looks for anything with the phrase "influencer marketing hub." It will only reveal those outputs that include the term "leading resource." This is just for demonstration purposes. Beyond this, you can configure over a dozen additional settings to acquire the most relevant results.
Brandmentions Dashboard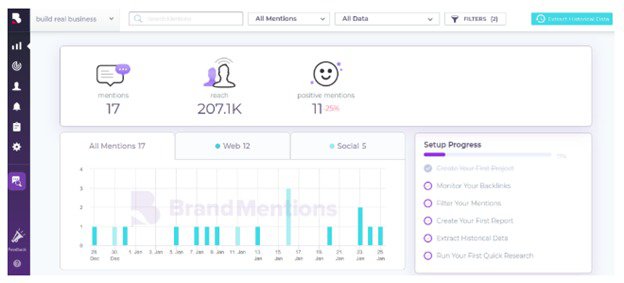 Upon completion of the initial configuration, you get access to the Brandmentions dashboard. Over here, all the web's content is loaded. The dashboard is user-friendly and straightforward. It contains search results with a wide range of keyword-relevant filters and mentions rest in the left-hand part of the Brandmentions' dashboard. Their various levels of importance sort them – for example, bookmarks, trash, junk mail, and tag. Any ordinary person can grab a hang of it.
Report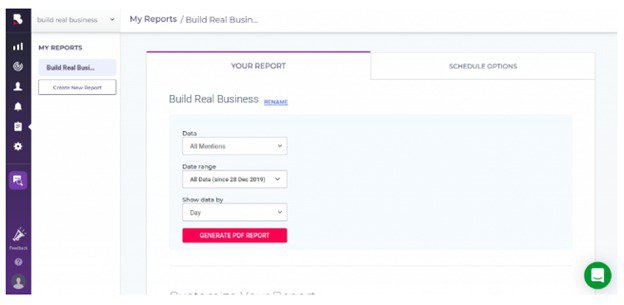 Small businesses love the report feature. Reports can be displayed in a stunning manner. You use the report to alert clients at particular intervals. Also, you can automate email reports with a customized touch. Brandmentions' report offers a lot of interesting filtering options. This way, you can limit your reports to specific information. The brand recognition in the reports is substantial. Small businesses should take advantage of the company plan package to apply their branding.
Notifications and Alerts
You can configure notification alerts whenever your brand name gets used. It is critical to initiate real-time tracking before configuring alerts. For more prominent brands, just the mentions with hostility will receive attention. It's a great feature because it lets you respond quickly to any negative comments about your brand. You can contact the individual to handle the problem before it spirals out of control.
Integrations
However, even if Brandmentions' alerts are delivered in real-time, they still reach everyone's email address. Email is the new millennium form of snail mail. Fortunately, connecting your Brandmentions' profile to Slack or Hipchat enables you to leverage Zapier integration and instantly view the Brandmentions dashboard within the messaging platforms.
Conclusion
The best usage for Brandmentions is for small businesses. They can manage multiple specific clients simultaneously. Clients will be impressed by such businesses' reports because of the way the automation will work alongside the official reports that have so many statistics and data. It's worth the try out if you are a small business owner. Brandmentions can be a perfect fit to monitor and grow your business.